In the year 2022, due to global warming, Nigerian families are pushed to the brink of extreme need for humanitarian support as climate change-related issues, especially flooding, erode more than 440, 000 hectares of land while submerging crops, houses, and even cemeteries across the geopolitical zones from both the south and the northern part of the country.
The significant rise of the sea level resulted in overpowering locals' defensive measures, which endangers larger populations of Nigerian citizens residing near and far from the rivers and dams, including farmlands, which are drastically damaged.
Like always, people from disadvantaged families and businesses bear the cost of life, property, and the consequences of suffering from diseases like cholera, malaria, typhoid, and other infectious diseases and outbreaks, just as the Nigerian authorities, the National Emergency Management Agency (NEMA), disclose that no fewer than 500 lives were lost and about 2.5 million people were affected by flooding across the country in 2022.
Although many Nigerians accuse authorities of sending a late warning message, the message comes at a time of non-preventable occurrence and victimisation as provisions for IDP camps and a soft economy for easy relocation were not made, and farmers were not oriented for early planting and harvesting; therefore, the disaster in the downpour resulted in the wiping out of large swathes of farmland, which may speed up the food insecurity in the country.
Farmers Plight 
Daily Episode understands only a few crops were harvested, especially in the northern part of Nigeria, where the country and its neighbours depend on its agricultural production for both trade and consumption, as flooding, insecurity, and the prices of fertilizers, pesticides, seeds, and other utilities account for farmers' heavy losses.
Bitrus Alvadi, a farmer and victim of the flood in Wuro Dadi, a community on the banks of the Benue River in Adamawa state, counts the loss of his hard-earned and lifesaving investment to the year 2022 flooding in an interview shared to Daily Episode by the International Committee of the Red Cross (ICRC).
Annually, we experience flooding around September, after which we have harvested our crops. Unfortunately for us, the flood submerged everything in early August this year.
I plan for profit and an investment that will put enough food and money on my table to feed and sell. I invested my effort, power, money, and hope in the farm, but unfortunately, the "disaster" flood washed away the crops, my happiness, and my hope. Mr Alvadi laments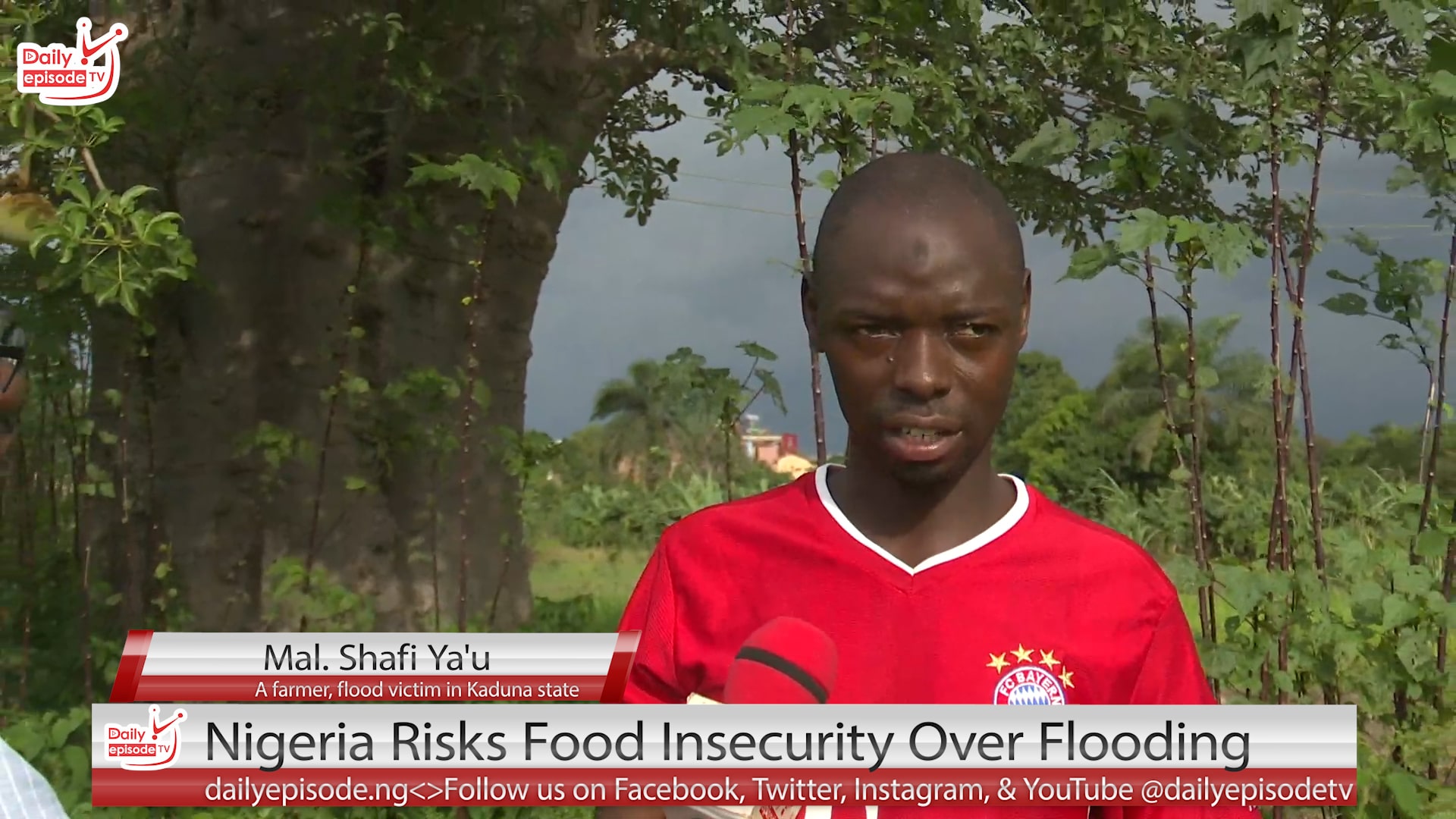 Similar to Mr Bitrus Alvadi, Shafi Ya'u, a farmer in Kaduna State's Tudun Wada riverbank community, counted losses on his farm; nearly everything was damaged, and only a few crops survived, leading him to forecast food crises and higher prices in the coming year.
However, many farmers and those displaced by flooding need humanitarian support, a situation that makes Boyomoso Eli of Wuro Dadi plead for the government's and non-governmental organizations' support for seeds and other production tools for dry-season farming so they can recover from their losses.
The plight of many farmers is highly underreported, especially the bottom line of food security, looming hunger, and the price of food to end-users.
However, the Nigerian authorities projected that about 20 million citizens were facing acute food insecurity; although the number may be higher than the estimated percentage, the alarming point can be frightening in a country with a population of over 200 million citizens that is hit hard by insecurity, especially with secession agitation in the southeast, armed conflicts in the northeast, banditry, and farmer-herder clashes in the north-central, and northwest, a region where grains and crops are produced in nearly 89% of the country.
Nigerians consume rice more than any other grain. Many villages, especially the rice production centers in the states of Kano, Jigawa, Kebbi, Niger, and some parts of Kaduna, are flooded, and their farmers harvest a lower percentage of their seasonal production.
The flood damage and results are almost the same across the country, and governments may likely develop a mechanism to tackle food insecurity. 
Failure to do so, citizens may suffer as a result of a lower harvest amid the government's enforcing the border closure and restricting the importation of food to increase agricultural productivity and independence.
How Flooding and Pollution Affect Fishing and Fishers' Livelihood
Not only farmers, but Nigerian fishers also suffer from climate change-related issues and environmental disasters with the pollution that creates chemical hazards from the illegal waste disposal by Nigerians at culverts while raining into rivers and waterways.
A Daily Episode interview with Salisu Yusuf, a fisherman at River-Kaduna in Kaduna State, northwestern Nigeria, revealed how flooding and pollution prevent them from earning enough to cover basic expenses.
According to him, many species of fish have already left the Kaduna River because of the warm, constant flow of waste that produces poisonous chemicals that kill both fish and other species in the river.
Although when there is a heavy downpour, we hardly dive into the water, this year's flooding has extensively lingered on the scars of fish, as we hope to double our fishing if the government can enforce a task force that will prevent the populous from illegally dumping waste to prevent flooding. He added
Emergency Response to Support the Flood Victims
Benson Agbro, the coordinator for the Nigerian Red Cross Society's disaster response, stated in an interview that some of their personnel and volunteers are already in some states registering individuals who have been affected by flooding for potential assistance in cash and kind.
According to him, the enormity of this flood's impact on food security may be better understood given that it has already affected more than 440 hectares of land. Consequently, we pledge to assist Nigerians to be free of food insecurity, considering that so many farmlands have been washed away and means of livelihood have been eroded.
Though the Nigerian Government, through state and federal disaster management agencies—the National Emergency Management Agency (NEMA) and the State Emergency Management Agency (SEMA) with state caption—have been on the ground responding to victims' evacuations and providing relief materials, many of the victims cry foul as only a few are attended to in most communities, especially the rural communities recently visited by Daily Episode with a recent story from CNN as a reference.
Improving Farming Productivity
Ibrahim Yakub, an environmental journalist in Kaduna, laments that, due to ecological and environmental disasters, farmers are losing thousands of hectares of land annually, and the food security we always discourse about might be a long-awaited reality. So long as we don't address issues like modernising our agricultural system, from the seeds we plant to the irrigation and cultivating processes.
For lack of proper orientation, many farmers counted their losses annually; such alone can trigger food insecurity, but if the government and experts will wade into action by organising seminars for the players in the agricultural sector, the real farmers, we shall surely get rid of our forecast problems of both climate-change-related issues and the production of agricultural products. He added